So it's time to find a new digital marketing agency, and you've narrowed your search down to a handful of agencies that you think meet your brand's criteria. Suddenly, you find yourself with a whole bunch of notes on each agency, but they are scattered and difficult to really use.  If this sounds familiar, please read on.
The AgencyLoft editors have gone through this countless times, so we've built a simple template that you can use to help compare and contrast all of the agencies you're reviewing.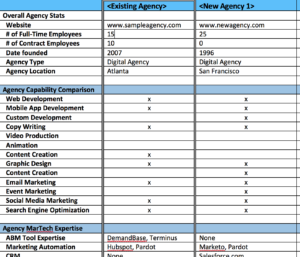 Introducing the Digital Agency Selection Matrix template
One-page agency comparison matrix
Easily editable so you can customize it to your agencies
Helps you visually compare:

Vital stats like agency size, location, etc
Agency services offered
Marketing technology specialization
Agency vettings like reviews and reference checks

Plus, we've added free-form note areas to help you really ask yourself the hard questions. This includes your notes on what you thought about their pitch, the creative examples and more
It's a simple tool really….. but that's the beauty of it. It's complementary to download, so go ahead and give it a shot today.