Connecting Great Agencies with Amazing Brands
As the old saying goes, the cream will rise to the top. Well, at Agency Loft, we believe the same is true for the best marketing agencies in the market.
Of course, there are the giant agencies that everybody knows (and they are really good). But huge doesn't always equate to the best fit for your brand. We believe in giving all talented agencies a voice – lofting up the brilliant, the creative or the downright amazing.
That's why we professionally vet each and every agency that's in our marketing agency research portal. No, it's not the largest agency list. There are others out there if you wanna spend time sifting through thousands of agencies. At the Loft, we've already done that heavy lifting.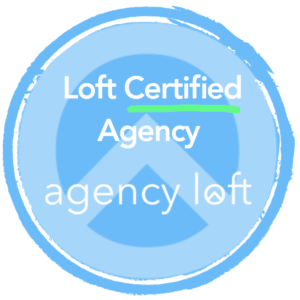 Once professionally reviewed and vetted, agencies are added to our research directory as #LoftCertified agencies. This Agency Loft certification signifies that any agency on our research portal is a trusted and high-quality marketing service provider. Learn more
Our Vetting process:
Review of creative
Review of technical expertise
Review of key talent
Review of 3rd party reviews
Review of industry thought leadership
and much more
Who are we? 
We're like you…no seriously, we are. The founders have brand and agency backgrounds. We started this more out of necessity than anything else. It's hard to find that perfect connection, and we've made the mistakes so you don't have to. At the end of the day, we believe there is an agency that is the perfect fit for any brand – and we're here to help make that match.
Next: