Getting Started with Agency Loft
We offer a simple way to connect with potential agencies anywhere in the world. Browse the top agencies then immediately message and set up an initial meeting. Simple and easy to use, Agency Loft offers a way to find great agencies without the headache.
Which Agency Is Right For You?
Finding the right agency fit can feel impossible. Learning the ins and outs of the agency proposal process is a great first step in your journey. We recommend reading this article and using it as a reference to help guide your decision-making process going forward. Over time, we've created the leading list of agencies. All agencies listed are best-in-class and forward thinking. Browse key stats about agencies such as:
Clients
Average Cost
Agency Size
Location
Specialization
Industries served
Portfolio
Mission Statement
Description
Reach Out
Click the "Contact" button to message the agency.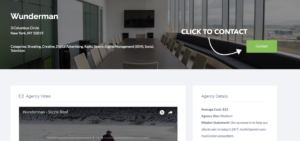 What are you waiting for?